About the Show
Chihaya Ayase has spent most of her life supporting her sister's model career. When she meets a boy named Arata Wataya, he thinks Chihaya has potential to become a great karuta player. As Chihaya dreams of becoming Japan's best karuta player, she is soon separated from her karuta playing friends. Now in high school, Chihaya still plays karuta in the hope that she will one day meet her friends again.
Publisher:

ntv

Videos:

25

Year:

2011
WARNING! THIS POST IS FULL OF GIFs ;)
What their club room looks like during springtime
It's actually a storage room but they cleaned it up and rearranged things inside
Meet Chihaya (beauty in vain)
Kanade Oe fascinated *_* I think she had some mascara on or something since she got 3 eyelashes on this one she usually have just one or 2 haha
Meet Taichi, going back home together they met for the very first time at school all grown up
Even if they haven't seen each other for ages it's as if nothing much changed
Meet Arata
here's Arata with a failed high five with Taichi haha
Young Chihaya and Taichi playing around he said she's such a tomboy compare to her sister
Well said young Arata
Their 1st team tournament match with matching shirts so cute!
For some reason Shinobu reminds me of Rukia from Bleach maybe it's her hair or like character demeanor
powerful vibe
I have no idea what is Karuta and how it's played it looks very interesting and fast paced though competition style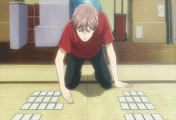 My thoughts:
This series is so cute and I can't get enough of it! I watched it so many times now it always gives me that butterfly,fluffy feeling inside my stomach the love triangle and love interest is definitely something to think about at first I'm like team Chihaya x Arata then again as this story progresses especially in the manga now I'm like in a dilemma I also like Taichi he's smart,rich,nice, jack of all trades master of none as they say haha!
I think what attracted Chihaya to Arata is that he's so hard working and he got a dream and he gave her a mind opening experience something she's never forget that her dream should be all about her (just like the gif way above) as for Taichi he's very dedicated and he gave her that feeling of uncertainty sometimes like what is this? and that moment Taichi told her ( I won't say you gotta read it it's in the manga haha!) she was like dumb founded and because of that I feel like aha! Oh Chihaya now I kinda get it for this I really hope Chihaya and Taichi would end up together because of that moment she questioned herself and stuff definitely a game changer.
It's more tournament focused though although I really crave for intimate moments and Arata to show up oh boy! so many things yet to be revealed so if you're tuning in to this series and know what I'm talking about are you team Arata or team Taichi? that always seems to be the question isn't? haha
also the character developments are pretty outstanding this series covers friendship,love,slice of life and cultural stuff no wonder it won awards! I gave it
5 out of 5 stars
due to its awesomeness! I'm really looking forward to Chihaya being Queen and her showdown with Shinobu also who would beat the master? Taichi or Arata waah! so freakin exciting! as for the next installment please publish it faster and more frequently haha