Hi! My name is Kim Cuasay and you can simply call me Kim.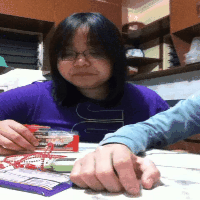 yeah that's me having fun doing a spinoff of zombie/carnivore/how humans eat their food
it's all play and all good Noone was harm in making this haha!
So yey-yeah! I finally decided to participate on
Airchair Bea
this year WOoohoo!this is actually my First time to do so coz I'd like to do more and participate,learn also to socialize more with fellow book bloggers etc. For those of you who doesn't know anything about it I'll give you a quick rundown. It's the experience for book bloggers to participate in Book Expo America (BEA) from the comfort of their homes. This experience is created lovingly by book bloggers specifically for our peers who for whatever reason are not able to participate in the main conference in New York each year.It bring publishers, authors, and bloggers together in celebrating our love for all things literary by hosting celebrations such as sneak peeks, daily discussion topics, and sponsored giveaways.That's the Mission Statement my dear friends and you can all
read more about it on their new FAQ page.
Alright then on with the
Q&As
let's get to know each other a lil better now shall we?
You already know my name Kim which could mean a lot of things based on any search engine or baby book(s) haha! (I hope you could tell me yours in the comment section below so I could address you properly). I've been blogging for 1 year, 11 months and counting... :OMG! my blogversary would be up next month it all went by SO FAST! I still can't believe it!. I got into blogging due to my
Godma (MissGennD)
convinced me to launch one I didn't like it at first and I had no idea what to talk about then she tagged me on this
30 days photo challenge
then after that I started to think about things that I like and love to do or would like to do and talk about which is mostly about books! XD since I don't have a lot of friends in real life that seems to talk about them openly I reckon this is a great place and idea to begin with *dan-Dan-DAN!* yes of course the internet! pwahaha! surprisingly so I found it as a common denominator to almost everyone like < friends who likes to read/talk about books with or whatever and the magical wonders of the interwebs ;))
Anyways, I'm currently living somewhere around the Sunshine State (FLorida),USA.I love it here! of all the places I went to I found this place best because the weather's great!free beach galore,lots of friendly and honest folks,low crime rate(on my area ;), lots of parking spaces and indeed very peaceful!(PRICELESS!)
One non-book-related thing that everyone reading my blog may not know about me is that I almost died multiple times (seriously? yup!) like from drowning,crossing the street(s),driving I actually lost count haha! lots of very enlightening experiences and I guess my time is not yet up NOT TODAY it seems...and I still need to read lots of books, live so many lives through them also experience lots of things in real life! (Power up!)
And so if I could eat dinner with any author or character I'd definitely pick Sir Arthur Conan Doyle and Sherlock Holmes I LOVE THEM SO SO MUCH! (yes IN ALL CAPS for emphasis haha! XD) the first time I read the blurb I'm immediately hooked! every case,story and just basically everything was just so fascinatingly EPIC and brilliantly well thought out.I'll try to talk more about it on my next post about Armchair BEA: Classics so watch out and stay tune for that!
Also along with that I greatly encourage you to sign up
here
, join in the fun and you can participate as much or as little as you wish in this wonderful event (
more info. on FAQ page
).
Enough about me tell me more about you! feel free to type anything on the comment section below or follow me elsewhere in the interwebs ^_~