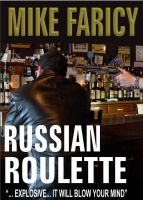 Source: ebook provided by Mike Faricy for review
Category: Fiction ,Mystery,Detective
Format: Ebook
Page Count: 129
Published: March 20, 2011
Language: English
About the book:

When dysfuntional private eye Dev Haskell stumbles into bed with a new client he has no idea he's actually sleeping with the Russian mob. Along the way he's shot, car bombed, beaten and used as a human shield. An engrossing, funny tale of intrigue, rank ineptitude and one night stands. Russian Roulette is a fast paced suspense thriller from Minnesota's master of the bizarre, Mike Faricy (more)

My Review: 1 out of 5 stars

It's not that I hate it I just don't like it and won't recommend it! This whole story irritates me the protagonist Devlin Haskell is not that smart for a detective/private investigator and my least favorite to be honest…he always ended up drunk, screwed, in the hospital or worst almost dead yikes..he only got small connections, little clues most of the time clueless, a small fry, he doesn't have an office, no paperworks, he doesn't even ask series of questions that you would typically ask a new client that would lead/shed you some light about the whole work related investigation thing, whenever he did his questions always ended up to in a dead end, heck he can't even contact his client right. Everything was slow paced though I have to say Devlin is lucky guy to have an ex/friend Heidi and a cop friend Aaron who always looked out for him. Agent Hale (I.C.E) was right and totally hits the bullseye about Devlin on (page 93) there's still more room for improvement. For instance, Devlin needs more training(physically,mentally,more exposure especially on the field of action etc),he got to stay alert at all cost, a keen eye is very important in every aspect, build up his connections that would aide him in his line of work, learn more than one language, drop the booze especially while at work, strive more with his life, a lot of lifestyle changes would help etc.Though it's only a short story I really struggled to finish it I always gave it a chance til the very end to redeem itself with a maybe thinking..maybe if I read any further it would turn out to be an ok book but NO! that didn't happen it kept getting worst! what an epic fail.I'm so sorry Mr. Mike Faricy but this story seriously and badly needs a makeover!