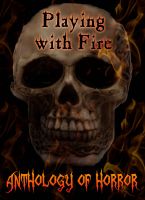 www.smashwords.com
Ebook Price: $0.99 USDUse the code SSWSF at checkout
to get this book for FREE during our
site-wide promotion!
(Offer good thru July 31, 2011)
Published: July 12, 2011
Format: ebook
Category:
Fiction » Anthologies » Horror
Fiction » Literature » Ghost
Words:
55133 (approximate)
Pages: 122
Language: English
Short Description:
Scare easily? Are you often frightened out of your sleep? Does the mere mention of ghosts prickle your skin? These seven author's imaginations are fired up by the scariness of the unknown. Find a comfy spot, sit back and enjoy nine tales to tickle your taste for terror.
Susan Evelyn – Best Served
Revenge is sweet they say. But is Anna going to be able to hold the right ones accountable?
3197 Words... (Read more)
My Review: 5 stars Are you afraid of the dark?
I love horror stories though I'm a number one scaredy cat it took all my guts just to finished reading Playing with Fire.These stories has a shake,rattle and roll concept for me.Shake meaning the first couple of stories is spine chilling and would make your senses numb with horror.Rattle, is nerve racking! that will make you scream,breathless,gasp and say RUN!GET OUT!DON'T GO THERE! as you read through the pages.Oh and Roll,is the panic mode you don't know which way to go,you're obviously helpless most probably hiding somewhere in a fetal position,with a flashlight or under the comfort of your own blanket.All the stories are really great,some might bore you in the beginning or will get you running from the start surely and definitely this will get your adrenalin pumping til the very end it's best to be read under the moonlight or for a bedtime story or during a camp fire.I'm glad I took the risk and read the whole thing...Stay Safe ;)